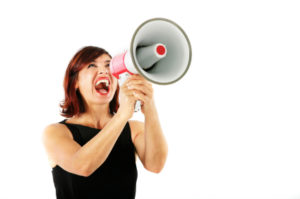 Ask most anyone to think of a great leader and on their short list you will find someone considered to be a great orator or powerful public speaker.
Ask anyone to list the skills of a great leader and communication skills or public speaking skills will invariably make the list.
The reasons are clear and (at least) two-fold:
1.  Leaders must influence groups of people and so the best leaders are able to communicate effectively to them.
2.  Many people would like to be better public speakers (or are afraid to speak in front of groups) and so they look up to and think highly of those who have this skill.
There is no question that being an effective communicator, including in front of a group, is an important skill of leadership.
The paradox is that the best speakers often miss another equally important (though not as often revered or thought of) skill. Actually, I'm not being fair – they may not miss this skill, it might just get overwhelmed by their strength as a  speaker.
Great leaders must possess this other communication skill too – the skill of being able to shut up and listen.
Yep, leaders must be able to talk in public successfully, and leaders must be able to (and willing to) shut up and listen.
The best leaders do both well.
Remarkable leaders know when to do each.
In the case of leadership communication, timing is everything. In the book of Ecclesiastes, Chapter 3 (NCV) starts out:
"There is a time for everything and everything on earth has its special season."
From there through verse 8 examples are given.
If I could add an example from a leadership perspective, it would read:
There is a time to speak and a time to listen; a time to share your ideas and a time to value the ideas of others.
It is our role and responsibility as leaders to become great communicators.  the paradox is finding the time to communicate with our lips and the times to communicate with our ears.
Your leadership activity today is to work on that balance; and recognize that even if you aren't a great speaker, you probably need to be using your ears more and your mouth less.