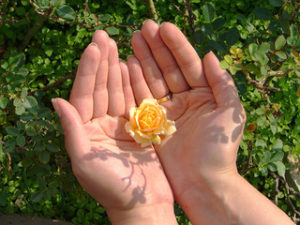 Forgiveness.
We all want it.
And sometimes it is hard to grant to others.
While there are psychological and spiritual reasons why forgiveness is important, that isn't the focus here. Make no mistake; I am going to try to convince you why forgiveness is important for you and your business though.
While I believe the psychological and spiritual reasons should be enough, I also know that it is sometimes hard to forgive others.  So I want to make the most logical appeal to you that I can.
I'm going to make a pragmatic business case for forgiveness, and how to do it, starting right now.
Reasons to Forgive
Here are some very rational reasons to forgive someone for something they did or said.
Relationships matter.  A lack of forgiveness can hang over a relationship like a (very) dark cloud. Regardless of what business you are in, relationships matter a great deal. If there is an unresolved issue, it could be the source of conflict, cause a reduction in trust and generally make communication (and work) more challenging to accomplish. Rifts in relationships can cause lost Customers, lost employees and lost opportunities. Relationships salvaged by forgiveness can be strengthened and bring the opposite results.  All of these outcomes move directly to your bottom line.
Stress reduction.  If you forgive someone and let go of the issue from your side, you are immediately less stressed.  When we are over-stressed, our performance, stamina and resolve suffer.  And aren't all of these things positive contributors to people's success?  If you know of a way to reduce stress, doesn't it make sense to do it?
Focus.  Have you ever had an issue with someone and every time you interacted with them you couldn't get the incident out of your mind?  When that happens are you doing your best work?  Whether your work quality, quantity, or safety is impacted, none are really acceptable.
Productivity improvement.  Better relationships, Greater trust.  More speed. More focus. Less stress.  In the end, when needed and granted, forgiveness contributes positively to nearly every major productivity component. Do you need more of a bottom line than that?
When you look at these four reasons (I could give you more) you should see a strong business case for doing something.   In fact if I gave you those four reasons without telling you what the factor was, you would be saying – "I want some of that."
But when the factor is forgiveness, it is harder to swallow, isn't it?
So you know you want more of the factors above, and I've convinced you that forgiveness will help in all four of those areas.  Now let me give you two ways to make it (at least a little bit) easier to do.
Two Truths about Forgiveness
It's over. If you have something that you could forgive someone else for, when did that action happen?
It happened in the past.
And what can you change about the past?
(Nothing).
It is really about you.  You want to think they were the transgressor, they made the error, they said the hurtful thing, whatever.   But, as we just said, it is over.  Done with. Finished.
And there is nothing that person can do now to change those events.  So what is left is what you are thinking about an event in the past. The word forgive has an important word inside of it – give. While we often think about forgiving the other person, what if you thought about giving yourself the ok to not worry about, think about or be bothered by something that is already over?
Give yourself that permission and you may give yourself all of the benefits you just read about.
But Who to Forgive?
If you have been with me this far, you already know who you might need to forgive.  In case you need help, here's a start:
A team member, a peer, a vendor, a Customer.
Oh and one more.
Yourself.
Perhaps the person you most need to forgive to gain the business and personal benefits of forgiveness is yourself.
Consider forgiveness as an investment.  Try giving that gift to yourself and others today, and you will find better relationships, less stress, clearer thinking, and higher productivity.
Photo Credit Hamed Saber