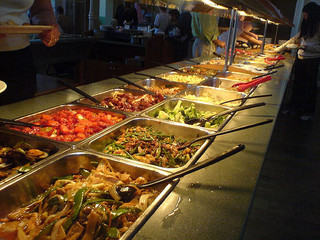 Imagine walking into an upscale restaurant with a sumptuous buffet – offering a wide range of tantalizing salads, entrées and desserts.  (Perhaps a more clear picture will come on Thursday at a Thanksgiving dinner).  There are all sorts of foods, providing you with a wide variety of options.
I am about to lay out a different kind of buffet for you – a series of ways leaders attempt to achieve goals after they have been set.
DIY.  After the goal is set, you can decide to Do It Yourself.  After all, you set the goal, you know the most about it, and you are in the best position to take the necessary steps to reaching the goal.
Delegate/Assign.  After you set your goals you may realize you can't do all of them alone, and in fact you have some people on your team better suited to do some of the effort.  So in this option you delegate or assign the goal to a person or group – supporting them as necessary and needed.
Engagement. Before assigning or delegating, another approach is to engage people in final goal targets themselves. This includes some involvement or discussion about the goals before they are finalized and before they are assigned for implementation.
Co-creation. Backing up further, another approach is to have the involved people help create the goals from the start.  Having people involved earlier creates more ownership, but in this case it isn't a mirage – as co-creator ownership is undeniable.
Fast Action Teams.  Once goals are set, put a team together to make progress quickly. There are many ways to identify the team, but in this approach the focus is immediate and fast action and progress.
Plan First. Goals can be set, but if there isn't a plan for  how you will achieve it, you are off to a bad start. When planning you will identify obstacles you might face and resources you need (among other things).  If you want a template to help you speed up your goal planning, you can get it here.
These six approaches are like a buffet of food before you.  You can take whichever ones you want.  You can even combine some of them together.  And like a food buffet, some of your options are healthier (i.e. will lead to better results) than others. Eat too much pasta and you might not meet your weight target; do too much DIY, and realize your overcall achievement will be stunted.  Conversely, eat a balanced meal from the buffet and you will enjoy the process, and be healthier – much like combining items 2-6 together into an integrated goal achievement plan.
You likely have eaten at more than one buffet in your life – and if you have, you know that not all food is created equal!  The mac and cheese, roast beef, or cherry pie on one buffet might not be nearly as good as those same items on another one!  The lesson here for us is that there is much skill that goes into making any of the menu options above work better.  It is beyond the scope of this article to help you get better at each of the items above, but . . .
. . . many leaders and individual set their goals, and they don't even enter the buffet line. Rather they use the most prevalent goal achievement strategy on the planet – they hope the goal is achieved.
Of course we know hope isn't really a strategy, just like we know in order to eat we must walk up to the buffet line.
So are there ways to implement each of the strategies above for better results?
Yes.
And are some of the approaches above better than others, and will they create better results?
Yes.
But any of the approaches in this buffet, regardless of how well they are done, are better than none of them.
If you want to achieve more goals individually or collectively, set up to the buffet line.  Take some action.
If you want to learn more about achieving the goals you set, accelerating and supporting goal achievement in your team – getting proven  strategies  and approaches that go deeper than this article, register for my upcoming teleseminar – Go Beyond Goal Setting and Stop the Ridiculous Cycle of Simply Setting Goals (without Achieving Them!).  One price gets access for as many as you can put around your conference table – and there are additional learning support options available as well.
photo credit: Drunken Monkey via photopin cc