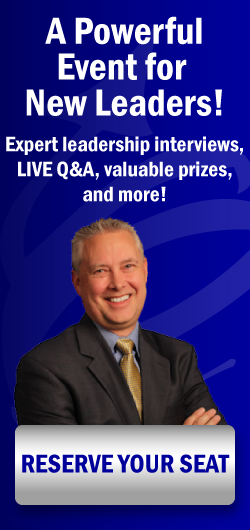 This coming Friday, April 17, from 1-4 pm ET, you will want to have the internet handy.
Mark your calendars.
Whether on your desktop, laptop, tablet or smartphone, make plans to join us for our first-ever livecast helping leaders become more effective.
Over 5 years ago Guy Harris and I introduced the Bud to Boss Workshop. Just over 4 years ago we released the bestselling book, From Bud to Boss: Secrets to a Successful Transition to Remarkable Leadership. Since then we have influenced thousands of leaders and organizations with practical approaches to becoming a more competent and confident leader. And now we want to influence and assist even more people.
Since the initial pilots of the workshops, with the exception of one live teleseminar a couple months ago, we have not worked together live with any groups. We've worked behind the scenes to create some new products (that we will tell you about on the livecast), but this is a chance to spend time with both Guy and I for three hours.
As we have planned this event, we did it completely with the audience in mind. So we will be interviewing some very smart people including:
Cheryl Bachelder, CEO of Popeye's Louisiana Kitchen Restaurants in the 1 pm hour
Bestselling leadership author Bill Treasurer in the 2 pm hour
Ken Blanchard in the 3 pm ET hour
We'll be joined for part of the livecast by Steve Johnston, one of our Master trainers, as well.
You'll have the opportunity to submit questions when you register and we'll be answering these and other questions that come in live during the livecast.
We also have give-aways and contests planned, and expect to have lots of fun as we focus on helping new leaders become even more successful.
We'll also be talking about the newest tools we have created to help leaders succeed.
And it all takes place live April 17 from 1-4 pm ET direct from our studio at Remarkable House to your internet-connected device.
If you are a new supervisor or leader, expect to be one soon, are an HR or learning professional wanting to help leaders grow, or are a leader of other leaders, you should join us. I promise the time will be valuable, insightful, and fun.
If you are responsible for leadership development for one or 100 leaders, what better way to supplement their development than by having them join us? (and you cannot beat the price either, can you?)
When you go to register, I have an added bonus for you. When you register, you will have immediate access to four bonus videos that provide insight, information and inspiration for anyone interested in creating more effective leadership skills.
Learning. Inspiration. Gifts and surprises. Fun. And all for free. What more could you want on a Friday?
For now you have just three things to do.
Register, share this opportunity with others, and block your calendar.
I'll see you on Friday.
NOTE: This event is over, but we are posting some of the exclusive interviews on our sister blog, Bud to Boss. You can check those out here.