By Jeffrey Gitomer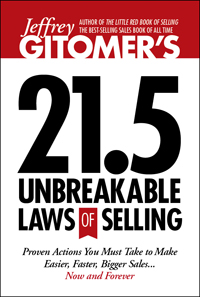 Jeffrey Gitomer wrote the bestselling sales book of all time The Little Red Book of Selling, and has been speaking and writing about sales for many years. I've reviewed many of his books, and am a fan of his. (Not like my 15 year old is a fan of One Direction, but a fan none-the-less.)
And so when this book came out, I was interested in reading it, because I am interested in the topic and as I said, I am a fan.
The book is worth reading (which is, of course, why I'm sharing it with you). I say this with reservation, not because it isn't excellent, but because it may cover ground you've been across with Jeffrey before.
If you like Jeffrey's work, you will love this book. If you aren't familiar with Jeffrey, you will love the ideas (and either love his style… or not – more in a minute). If you have read much of his other work, this won't all be new. If I could recommend just one of his books on selling, this would be it, but if you have read others, you could choose to pass.
Having said that, the author would say (and I would agree) that just because we have read things before doesn't mean we are doing them . . . so regardless of your past study of the subject or familiarity with Gitomer, I'd recommend you read this book anyway.
From a style perspective, this book is classic Gitomer. It is punchy, funny, irreverent and a bit in your face. If you pick up this book, prepare to possibly feel insulted (a bit), to laugh out loud and to be entertained. It might not be traditional, but it is useful.
Overall I recommend the book and I am buying copies for some people on my team. If you are in sales, order your copy today. If you know people in sales, this might be the perfect Christmas gift.