Sometimes a quotation encourages you to consider something you weren't expecting.   This is one of those . . .
"You have to allow a certain amount of time in which you are doing nothing in order to have things occur to you, to let your mind think."
– Mortimer Adler, philosopher, educator, and author
Questions to Ponder
Does my scheduled calendar include thinking time?
Do I allow myself the opportunity to just think?
Action Steps
Plan for and hold onto quiet thinking time, recognizing it as an important use of time.
Refuse to pick up a gadget or device the next time you have a spare or unexpected 15 minutes.
Stop. and. think.
My Thoughts
Awhile back as packed up my things to land after a two-hour flight, I reflected on how much I accomplished on the flight – even though I didn't have a perfect working situation.  After all, my "desk" was a tray table, I didn't have access to a phone, and I never opened my laptop.
What had I done for those nearly-two-hours?  I had thought, and planned, and strategized, and done a bit of high value reading.  I realized anew, that my normal routine doesn't include nearly enough of these activities.
While the details of my days are likely different from yours, we have these things in common –
We have lots on our calendar
We have a long list of tasks we want to accomplish
People come into our office and the phone rings and the "urgent" email arrives at inopportune times.
A leader (and achievers) life.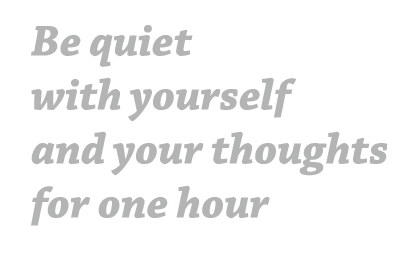 Yet if we don't schedule, plan around and hold sacred thinking time, and don't capture it whenever we can, we can never be as effective as we could be.
Take today's action steps to heart.  but don't just think about them, do them.
It could be the best thing you do today.