By Joseph J. Ellis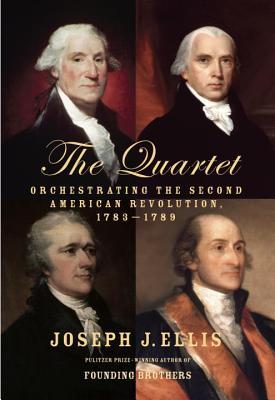 Most everyone knows, even if they aren't from the United States, what happened in 1776. The 13 colonies rose up and told King George to leave them alone. Of course it took a number of years to get King George to agree, but The American Revolution was all about winning the war for independence.
Except that after the war was over, there wasn't really a country, there was a confederation of individual states. The term United States didn't mean much because, well, the colonies (not States) weren't very united.
What we now recognize as the U.S. didn't really start to evolve until the ratification of the Constitution in 1788 (and Rhode Island, not until 1790).
This book talks about the state of the colonies after the war and up to and through the creation and ratification of the Constitution. And, as you might expect, it focuses on four guys:
George Washington: war hero and first President (you've heard of him)
James Madison: 4th President, often called the "Father of the Constitution"
Alexander Hamilton: immigrant who did lots of stuff. You see him on the $10 bill.
John Jay: you don't know him unless you remember your American History; this book would change that.
OK, this book is about the history of the country I live in and love. It talks about an important era of our country that many know relatively little about. These would be reasons many might read it. Others might read it because of their interest in the Constitution itself – another fine reason to read it.
Even if those are only passing interests for you, this book is fascinating, because it talks about how these four people led, from different perspectives, with different styles, and for different reasons, to help move a population in the direction of a vision they saw, that most others didn't see.
And the results of their leadership created a country that has changed the face of the earth ever since.
What is leadership if not seeing a vision and helping others see it too, and then moving towards it?
This book illuminates that journey on a massive scale, and shares insights on how and why each of these men chose to engage, and chose to lead.
For those reasons, even if you aren't a history fan, or even if you aren't from the United States, this is a worthy leadership read.