By Catherine Burns, Editor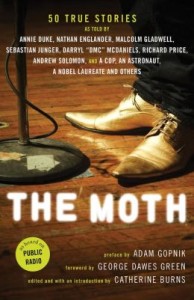 Catching up on magazine reading from last year, I saw an ad for a book I'd never heard of. I was intrigued, and since my iPad was nearby, I reached for it and investigated the book on Amazon. Five minutes later it was on my Kindle and 24 hours later I had devoured the entire book of 50 short stories, spanning over 400 pages.
That curiously titled book is The Moth.
Some of you might be familiar with the project that is a Peabody Award winning weekly public radio show. I was not. The original roots of this book come from friends telling stories on a front porch in Georgia – then a cult phenomenon in New York City, then radio, then this book.
The project has thousands of stories and this book has just fifty, and while I preferred some more than others, I found it hard to stop reading. The stories represent life – some sad and some thoroughly heartwarming. Some talk about situations I've never experienced and felt more distant to me, some were flat out amazing.
Overall I found the book fascinating enlightening and fun to read. I enjoyed some of the stories so much that I read one to my 15 year old daughter . . . then another . . . then another . . . then another. (Yes, after the first one she asked me to read more!)
Why do I recommend this book to leaders and people interested in personal and professional development? For three reasons:
This is different than what I normally recommend, and so a change of pace is worthwhile.
These stories are about people – and we lead and work with people all day long. Anything that helps us better understand their motivations, their emotions, and yes, their stories, makes us more effective and aware.
To be a better communicator, we must tell stories. And if you want to tell better stories, read great stories. (Click to tweet that). This book is one great place to do exactly that.
Yes, you can read this for what you will learn, but I was sucked in by just how good the stories are and how well they are told – and I'm betting you will be too. I was drawn like a moth to a flame – I guess now you understand the title too.