By Jennifer B. Kahnweiler, PhD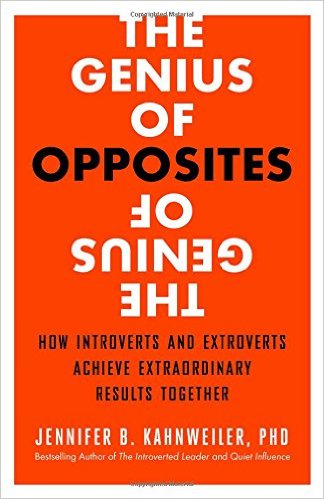 We've all heard (and probably experienced) that opposites attract.
That doesn't always make the attraction easy, or long lasting.
This book promises to help us find the genius in the pairing of opposites, and does it simply and convincingly.
Jennifer Kahnweiler has written, spoken and trained others to see the value of introversion for many years. In this book, she talks about an important opposite – introversion vs extroversion – and provides a real tangible and practical process for helping people on different ends of this scale to work successfully together.
Actually, that statement short-changes the author's goal and result. She doesn't just want to help people work successfully together, she wants, as the subtitle of the book promises, introverts and extroverts to achieve extraordinary results together.
In this slim book, packed with historical and contemporary examples, she outlines a five step process to do exactly that.
If you have a co-worker, business partner, major Customer, spouse or child who is on the opposite end of the introversion/extroversion scale from you, this book will be of great value. I'd suggest buying two copies – one for you and one for that other person – then use the book together to help understand each other, and provide a path to help you, as Jennifer says, achieve extraordinary results together.
Because of its practical approach to a common challenge, I give this book a full whole-hearted recommendation. Check it out here.