By Steven Watts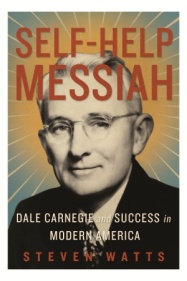 I, like many of you have taken the Dale Carnegie Course. Even if you haven't taken it, you likely know something about it and know someone who has. Also like me, you may have read one or more of his famous books, the most famous of which is How to Win Friends and Influence People.
It helps that the books are given out in the popular class.
But what do you know about this man who a course is named after?
Before I read this book, I knew some because I read an earlier biography, but I learned much from this well-written and documented book.
If you like history and biographies, you will enjoy his story – from a small farm in Missouri to one of the most influential men in post-depression America (a fact that became much clearer in the reading of the book).
If you enjoy marketing, there is much you can garner from this book. And if you are an avid, or even casual reader of self-help and personal growth books, this will give you a great context and lineage of the source of much of what you read, even today.
I enjoyed it for all of these reasons.
The book is a bit academic, and spends much time dissecting major pieces of Carnegie's writing and philosophy – more than you might want or expect in a pure biography. While I found it fascinating, depending on your purpose and interest, you might slide past some of this.
But overall, this is a well-written book about a person who has impacted the American vision of success in significant ways – and someone you likely don't yet know much about.