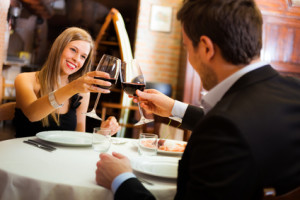 It's June – the month of weddings. And since I got married 27 years ago this coming August, I have but a vague memory of the courtship process.
Here's how I recall it:  You identify someone you would like to attract (we'll call them a prospect), and begin selling. You work hard to be noticed, you let them know you are interested, you build a strategy for making a sale, and then if all goes well, you have a date.
If after you make the sale (get the date) you are really interested in the person, you shower them with attention. You (really) listen. You perhaps provide a gift of some sort. All of these gestures are meant to communicate to the other person how pleased you are to be with them and how important this moment is to you.
If the first date goes well, there are more, and the focus, creativity, and earnestness continues; it perhaps even grows.
The gifts become more frequent, and perhaps more substantial.
Little gestures that show you care happen "just because."
You worked so hard to delight the other person, that these gestures and gifts almost become commonplace.
Then, if the relationship blossoms, you get married.
It was actually easy to write the opening of this article, because even if my personal memory is vague, we see it in the media, and hear about it from others all the time.
Consider the dating process in connection to your first experience with a new Customer.
And when we take ourselves out of the dating world and into the world of Customer relationships, we see it there all the time too – think about how much time and effort is spent to get the attention of and to woo new potential Customers . . .
As exciting as it is to be in a new relationship, the great joy comes from a long term relationship of deeper meaning. And as important as it is to generate a new Customer, businesses thrive based on the growth of business with the existing and long term Customers.
As a practical matter, it is far easier and more cost-advantageous to keep an existing Customer than to go get a new one. Yet, often we see our focus on the hunt for the new, not the nurturing of the existing. The statistics are stark – 68% of Customers leave because they are upset with the treatment they receive.
Lest those of you who aren't directly connected to paying Customers think I'm not talking to you, all of the same dynamics are at play here as well.  Whether thinking about internal Customers, whom you are taking for granted and not consciously working to nurture relationships with, or as a leader, thinking about those long-time employees that you neglect, the message is sadly the same.
We spend more time, money, attention and effort on gaining new Customers than on nurturing, celebrating, and building relationships with the existing ones.
But what if we did more courting of our existing Customers? What if we worked a bit harder to show our interest and caring in them?
I think the answer is self-evident.
So we know what we naturally do. We know why doing something different would be a good idea. Now, how do we do it?
I've left you enough to think about this week, by thinking about this metaphor in your work. Next week, I'll give you five tangible things you can do. But for now, apply the ideas this article as spurred for you . . . it will be time well spent.