By Lois J. Zachary with Lory A. Fischler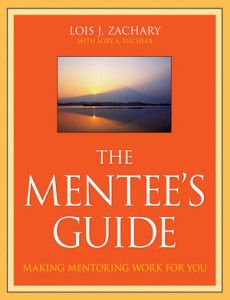 Many people who are dedicated to their own development recognize the power of finding and working with a mentor to speed their progress and skill growth. Many organizations have built formal and informal approaches to urge and support mentoring within their organizations.
All of this is wise – as mentoring can be a very powerful tool. (In fact, here is a recommendation for a great book on the Elements of Mentoring.)
Yet most of the focus for those individuals and organizations is on the mentors – finding the right one, and even in the case of some organizations, providing training for them so they can be more productive.
This is also wise, because having the right mentors makes a difference.
But this focus misses half of the target.
Enter The Mentee's Guide. This book is a practical guide to help mentee's bring more and get more from their mentoring relationships.
It is after all, a mentoring relationship; and that implies that both parties are involved, engaged and have a role to play. This book outlines what that role is in a step-by-step fashion. It includes the mentee's role in:
Understanding mentoring
Preparing yourself to get the most from mentoring
Selecting and getting to know your mentor
Establishing agreements with your mentor
The mentoring itself
Closing the relationship
Becoming a mentor yourself
This is more like a workbook – with tools & forms – and as such is in large format – 8.5 x 11. It is this size and hands-on nature that make it even more effective. While available in a Kindle format, this wouldn't be a book I would pick for that medium.
Overall, this is a well-designed and executed book that covers ground seldom covered in this depth. If you are looking to be mentored, or if you are (or have) created a mentoring program in your organization, this is a must-have book.