By Geoff Colvin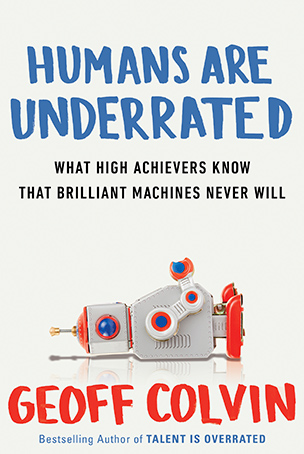 Geoff Colvin, the senior editor-at-large at Fortune wrote one of my favorite books of 2008 – Talent is Overrated. Now he's written what will clearly be one of my favorites of 2015.
This book took me on more of an emotional roller coaster ride than any great novel or whodunit. The first two chapters were informative and scary – telling just how fast computers (and technology-cousins robots of all sorts) are improving – and what they can already do that you may not be aware of.
Then the book takes a turn looking at us as humans and what our world, businesses and lives need that computers can't provide: relationships. Colvin makes a compelling case that we aren't really knowledge workers but need to become relationship workers.
After another scary chapter about how our current technology is eating away at the skills we will most need in the future, the rest of the book explores what we can do, what we need to do, and how we as individuals and as teams can become even more effective.
This book provided me with perspective and knowledge I didn't have, provided me with research findings that I can use in my daily life, with my team and in my work in helping leaders and organizations grow, and did it in a way that nearly exploded my head (in a good way if that is possible).
This book is well written and researched as you might expect given Mr. Colvin's day job. The book is more than that though. If you are a leader in 2015, this book can change your worldview and provide you with ideas to do your work more effectively – perhaps in some surprising ways.
I highly recommend you read this book. By the time you read it, I will likely have read it a second time, more slowly and deliberately mining for ideas to help my team, and the individuals on it, succeed both now and in the future.