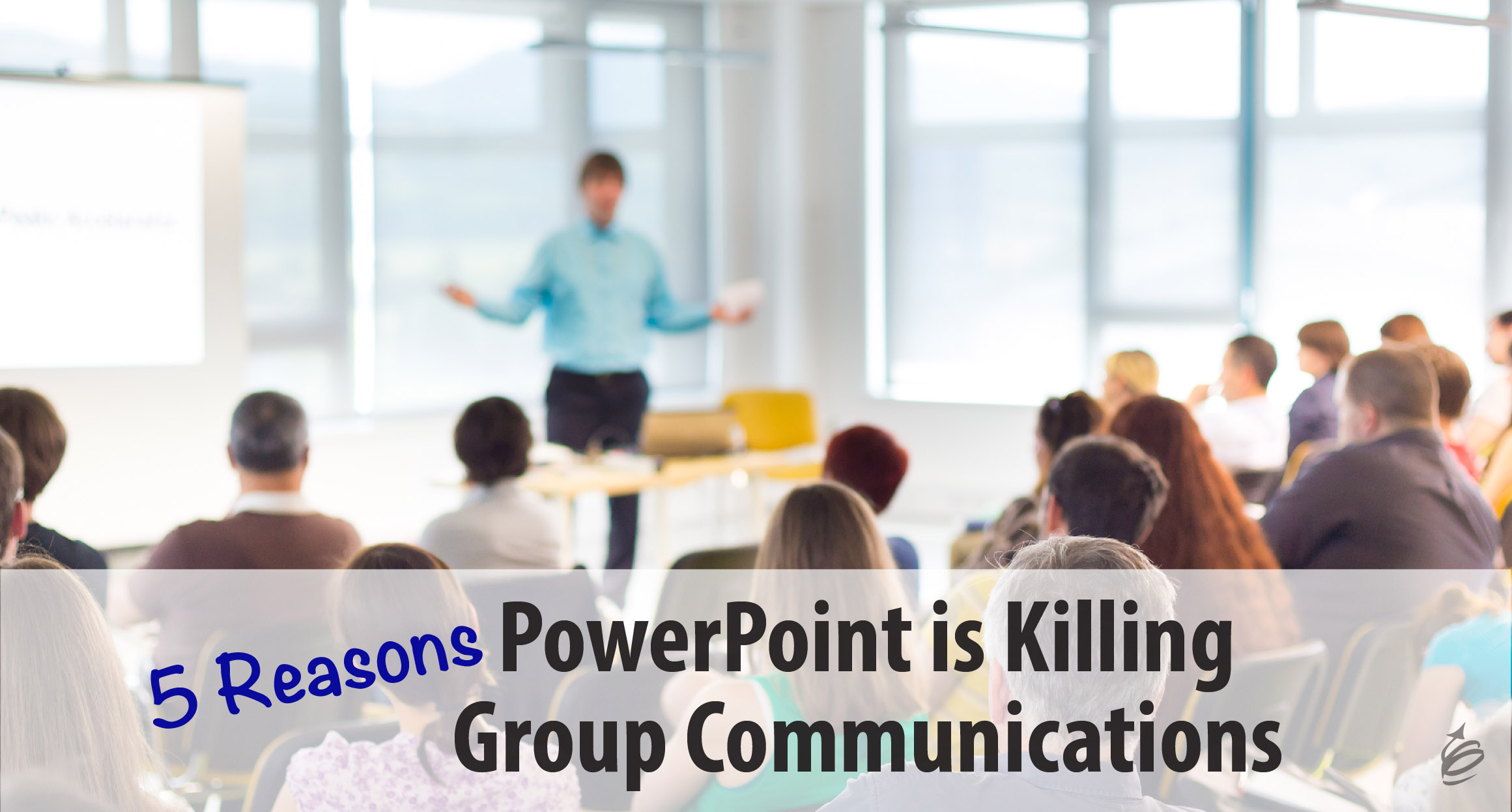 First, a couple of caveats . . .
When I say PowerPoint, I'm speaking generally – think Keynote and Prezi and whatever other similar tool you might use.
I'm qualified to talk about this because I have been teaching and coaching presentation skills and trainers for over 25 years – before PowerPoint was even released – and have been watching PowerPoint be used and abused since its inception.
So let me be clear; PowerPoint is causing presentation quality to devolve and group communications are suffering because of it.
PowerPoint is expected. Go into a meeting nearly anywhere in the world and you can expect to see PowerPoint. While there is comfort in the known, when something becomes ubiquitous it can lose its impact. Beyond that, and more importantly, people have seen so many bad PowerPoint presentations that in many settings the sign of the screen down and the projector on sends waves of cynicism and eye rolling through the group. This is hardly how we want to set ourselves up for communication success.
Why not give your next presentation without PowerPoint and notice how much more engaged and interested your audience might be?
PowerPoint is replacing preparation. Too many people equate being ready to give their presentation with finishing their slides. Having your slides ready is the cost of admission, not your choice of the best seat in the house. Your presentation slides can help you in your preparation, but when that is all you do you won't be as clear on your outcomes or as focused on your audience as you could be, because you are just making sure you "get through the slides." PowerPoint should be an aid to your presentation, not a crutch because you aren't really clear on what you are going to say.
Next time, really prepare. Use your slides to help you, but focus your preparation on your message and desired result, not on the slides themselves.
PowerPoint is a teleprompter. Well, it isn't, but that is how too many people are using it. When was the last time you saw someone reading their slides? (I know, probably yesterday). Why is this happening? There are at least two big reasons. One is people aren't prepared, so they read (see the point above). And second, and even more so, because they are putting too many words on the slide. Ever since you learned to read, when you see a sentence you read it. Even great presenters may succumb to reading if their slides have sentences.
It's time to cut down the number of words on your slides – and use a machete, not a razor blade. Stop reading and start communicating.
PowerPoint is a participation inhibitor. Your slides are your slides, and so you want to get through them. After all you worked hard on them and you have a plan for how you want to present the material, right? Except you are doing this not for the mental exercise, but for an audience. PowerPoint often makes it harder to get the interaction and conversation you might want as a result of your presentation. In fact, PowerPoint's presence, as used by most people, signals that this is going to be a one-way communication, until the "any questions" moment. You can have a highly interactive session when using PowerPoint, but not unless you change your use of it and plan carefully.
When you really want conversation, leave PowerPoint at home, or have very few slides and a clear expectation to the audience that this is a conversation, not nap time.
PowerPoint is supplanting the speaker. We use slides at a meeting, but not everyone can attend, so the slides are sent to those who couldn't attend so that they get the message. This is fine in principle, but it is one reason we end up with too many words on the slides. PowerPoint is meant as a visual aid; to aid to you as the presenter, and be an aid to you delivering a clear and effective message. So use PowerPoint as it was intended. And if you need to share additional information with others, supplement your slides, or archive information for the future – put that information in the notes section of the slide, and out of view of your primary, live audience.
Communicate your message to your audience, and use PowerPoint to aid you; not replace you.
The need to communicate clearly to a group has never been more important or valuable, and the capabilities presentation software (like PowerPoint) provide can be very helpful. But we have to get it out of our way, and make it our ally, not our enemy.
It's not really PowerPoint's fault, any more so than it is the wrench's fault if the mechanic can't repair the car. Both the wrench and PowerPoint are tools. If you need to craft effective group communication, it's time to learn how to really use the tools available to you.