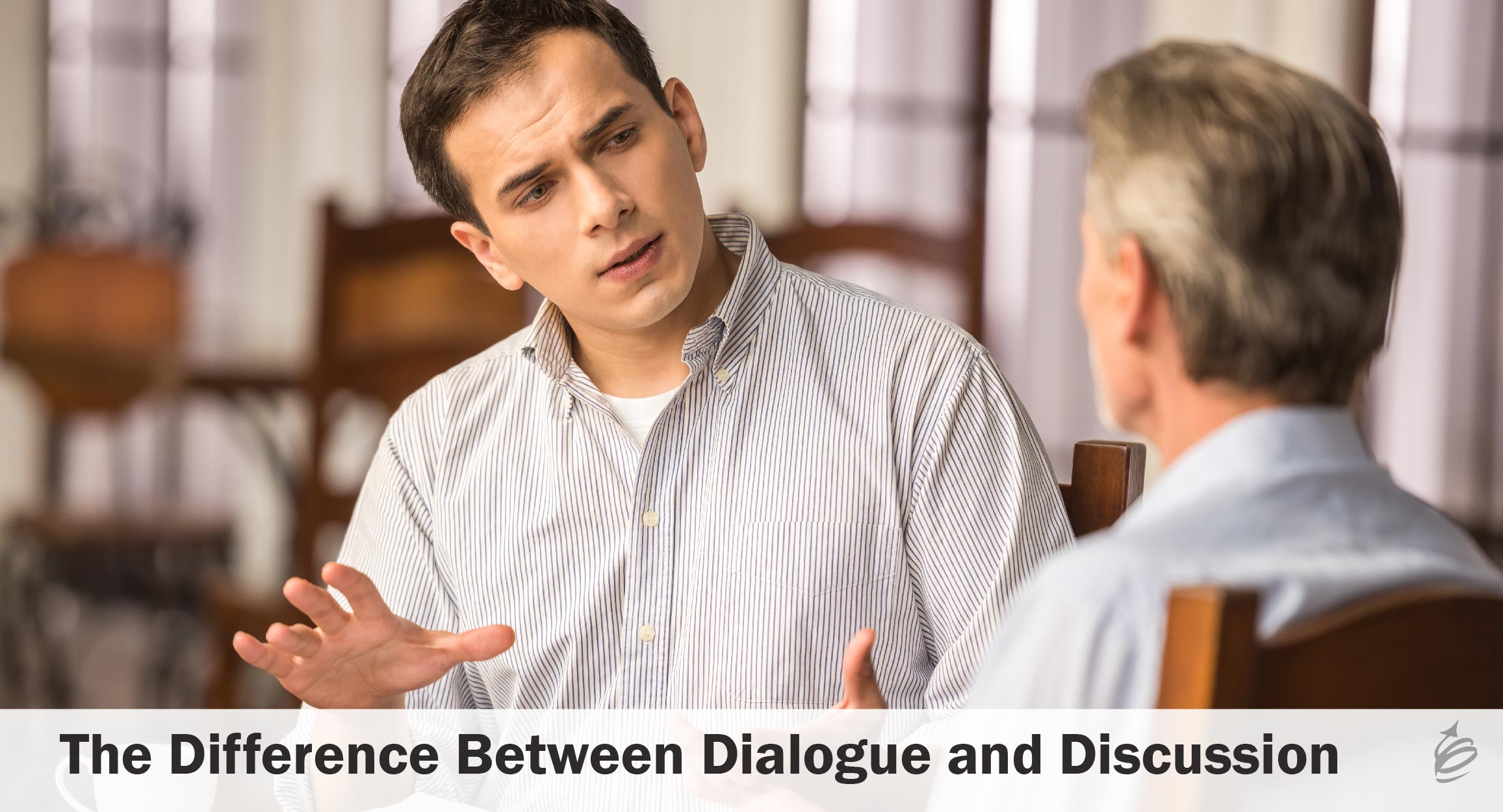 There is a great deal of misconception about the nature and meaning of the two words in the title of this article. Both are forms of communication, both are relatively common words, and both start with the letter d. While Theasaurus.com does list the two words as synonyms, simply seeing them that way is part of the misconception. Before we can determine which of them we are employing and if that is the right answer, we must understand what each is, and isn't.
What is Discussion?
Let's start with some dictionary definitions.
Merriam Webster's first definition of discussion is: "consideration of a question in open and usually informal debate."

Dictionary.com defines it as: "an act or instance of discussing; consideration or examination by argument, comment, etc., especially to explore solutions; informal debate."
Both point to the idea of discussion equaling debate.
When you look at the word origin you find that the word came from Middle English and the combination of two words: dis- meaning "apart" + quatere meaning "to shake." Quatere is also the origin word for quash, and a significant part of the words percussion and concussion.
While there is certainly time and place for a lively or healthy debate, I'm guessing you don't want most of your communications with others to quash them or their ideas, or feel like percussion or a concussion to either one of you.
What is Dialogue?
Now let's define dialogue from the same two sources:
From Merriam Webster:
a: a conversation between two or more persons;
b : an exchange of ideas and opinions
c : a discussion between representatives of parties to a conflict that is aimed at resolution
And from Dictionary.com, in part:
conversation between two or more persons.
an exchange of ideas or opinions on a particular issue, especially a political or religious issue, with a view to reaching an amicable agreement or settlement.
Dialogue origin is two Greek words; dia, meaning "through", + logos, meaning "words or meaning". Dialogue, then could be translated as a flow of meaning. Notice the strong focus here in the definitions on the idea of resolution, without the overtone of debate.
William Issacs, in his excellent book Dialogue and the Art of Thinking Together, takes this one step further: "In the most ancient meaning of the word, logos meant 'to gather together,' and suggested an intimate awareness of the relationships among things in the natural world. In that sense, logos might best be rendered in English as 'relationship.'"
Without getting too deep or too soft, let's think of dialogue as a process that allows us to "think together."
Why the Difference Matters
Why am I reaching back to Greek and Middle English in a contemporary article for leaders and Talent professionals? Because too much of our communication, especially oral communication, isn't working nearly as well as it could.
If you are like me the aha that comes from seeing the underlying meanings of the two words coupled with the reflection on which of these two communication methods we use most frequently is jarring and profoundly helpful.
Now that you understand the difference, I challenge you to think about which form of communication you are engaging in most frequently. My guess is your answer will point to at least some of the reasons why communication is sometimes harder than you wish it were.
Communication is a foundational skill for us to be effective personally and collectively in a team or organization. Considering the difference between dialogue and discussion, and taking the needed action is one way to improve those communication skills.