By Filipe Carrera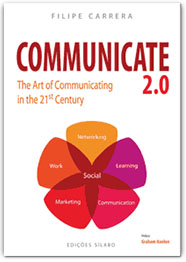 Communication – it is a foundational skill for us as human beings – we do it every day. And yet we know many people aren't very good at it, and all of us could get better.
There many reasons why this is true, including:
Because we do it all the time, we take it for granted.
It is really complex.
The context in which we communicate keeps changing.
It is that third point which makes this book particularly useful. The subtitle tells the story – the art of communicating in the 21st century.
Yes, people are people, and in some ways, the skills of communication haven't changed at all. But in other important ways it has. Technology, a more diverse audience, and so much more make this complex challenge even more daunting.
And yet, we often don't think about all of this because "we do it every day".
Enter Filipe Carrera. Filipe is from Portugal but travels the world lecturing and consulting on communication and other things. He is active on social media and so when he offered me his book, I readily accepted because I knew he would have something interesting and useful to say about this topic – because he is living it.
In this slim book, he tackles a broad swath of communication topics including face-to-face presentations, multimedia communication, oral and written communication. It is in the first two where this book provides the most value (and also where the bulk of the book is focused). Filipe is able to illustrate his points with stories and examples that are both instructive and entertaining in part because of his experience in communicating with people from over 40 countries.
The book is laid out almost like a workbook – sections are short, with many sub-headings. It makes this 200-page book read even faster.
This book provides a broad smattering of expertise in communication, but it is far from the only book which does that. Where this book shines is helping help you present to a global or diverse audience, or to communicate using technology – whether as a presenter or leader of remote teams. If those are your areas of need or interest, I recommend this book.