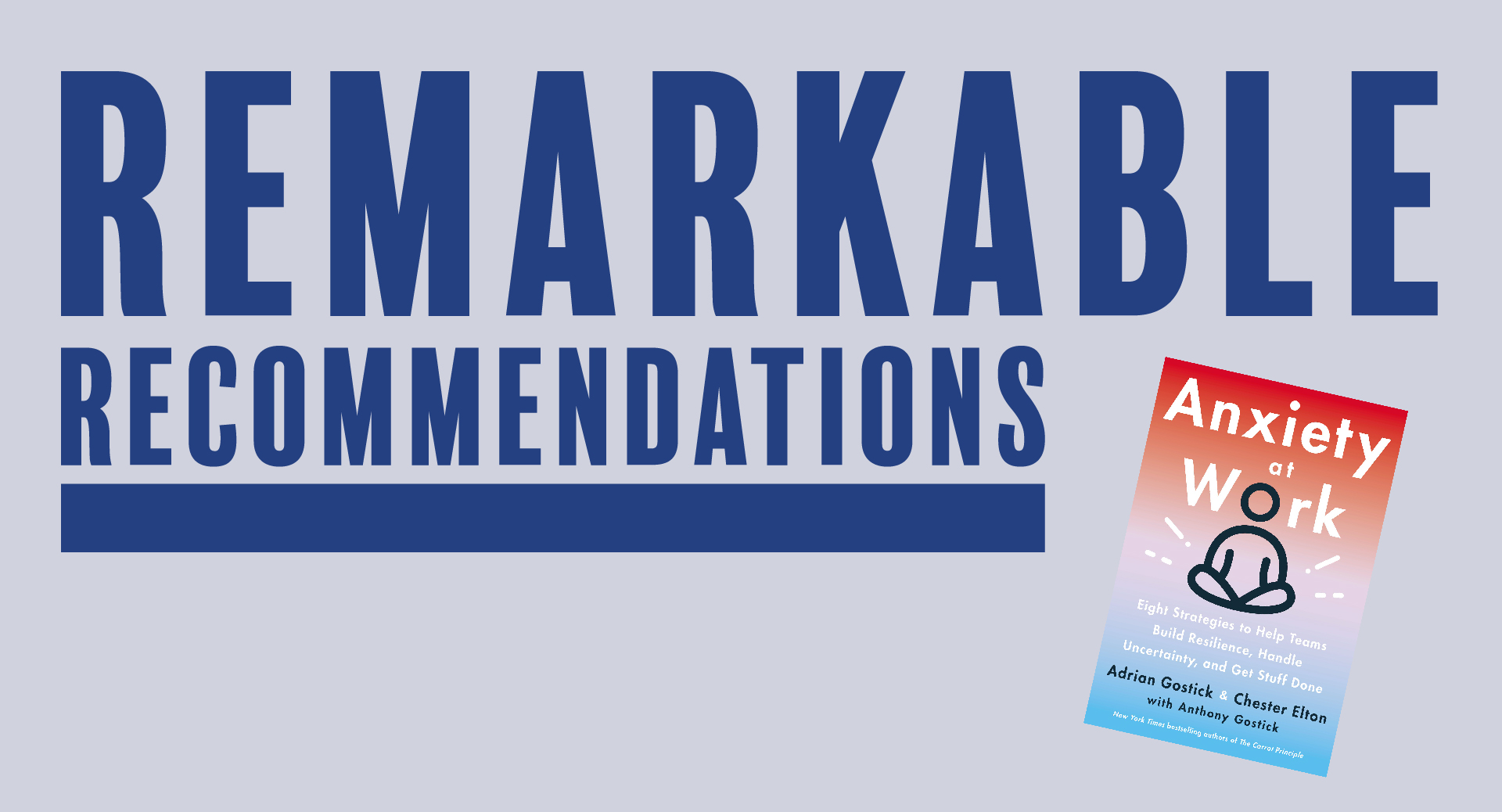 Even before a pandemic added to our anxieties on every possible level, there was already a serious problem with anxiety at work. While I'm not glad the problem has become more pervasive, I am very glad it is now more commonly discussed. And doubly glad there are great resources to help us understand and overcome anxiety at work.
One of those resources is the new book by Adrian Gostick and Chester Elton, Anxiety at Work: 8 Strategies to Help Teams Build Resilience, Handle Uncertainty, and Get Stuff Done.
They cite research early in the book to solidify my initial point:
In a 2018 survey, 34 percent of workers of all ages reported feeling anxiety at least once in the previous month, and 18 percent had a diagnosed anxiety disorder.
Is there any doubt the problem is bigger today?
Problems need solutions and this book provides eight strategies leaders can adopt to greatly reduce the anxiety people are feeling.
The Eight Strategies
In eight core chapters, this book helps leaders think about how they can help team members:
Deal with uncertainty
Deal with overload
Chart their way
Manage perfectionism
Find their voice
Feel valued and accepted
Build social bonds
Use gratitude to build confidence
Research-based, practical ideas and instructive stories support each of these concepts. One of the things I most like about the book is the proactive, practical, and positive approach. It states the case and need clearly, then shows you how to help overcome the challenges of anxiety at work.
A Key Lesson
For me, the chapter on managing perfectionism was especially helpful. The connection between perfectionism and anxiety was clear. And yet, I don't believe it is considered often enough in the "anxiety at work" conversation. The explanation of the difference between striving and perfectionism was helpful. The authors share some practical advice about how to spot perfectionism in ourselves and others. Some of the indicators include seeking excessive guidance, not wanting to take risks, and treating every decision as critically important.
That chapter also provide a series of important steps that you as a leader can take to help alleviate perfectionism as a source of anxiety for your team members. The advice is clear, practical, and immediately applicable.
Overall, this is a timely, well-written, extremely helpful book from two trusted leadership authors. If you recognize this problem in your workplace, you will love this read. If you think you don't have this problem in your organization or on your team, you need this book. Use it to help you reconsider the possibilities and manifestations of anxiety in your workplace.
Don't Want to Wait?
Maybe you aren't a reader. Maybe you are a reader but already have too many books on your stack. Or maybe you want to start benefiting from this book before you can get your hands on a copy. In any case, release your anxiety! I had the great pleasure of talking about these ideas with co-author Chester Elton recently on the Remarkable Leadership Podcast. You can listen or watch from here, or find The Remarkable Leadership Podcast on Spotify or your favorite podcast app.