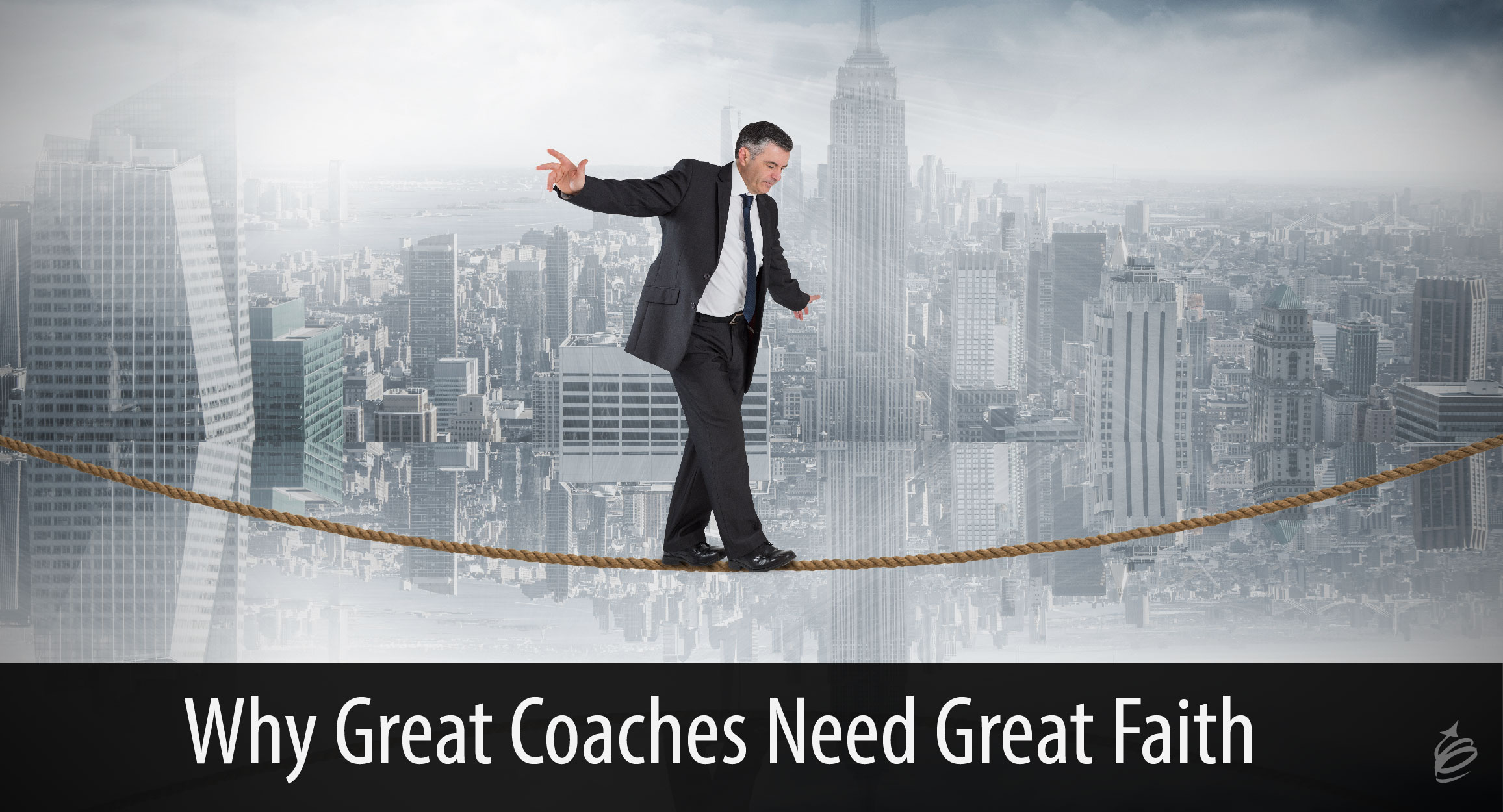 You may read the title of this article and think I'm crazy. You may think that faith is something we should keep in the religion or spirituality box, that is doesn't belong in the working world. You may think great coaches need to be great communicators, and perhaps even build trust with those they lead, but faith?
Now you have gone too far, Kevin.
With all due respect, we don't need to have this conversation, and you wouldn't need to read on if you want to be an adequate or passable coach, or even a pretty good coach.
Read the title again, I'm talking about being a great coach. And yes, to be a great coach, you need great faith.
Perhaps the most famous definition of faith comes from the Bible, Hebrews 11:1 "Now faith is confidence in what we hope for and assurance about what we do not see." (NIV). Taken on its face, wouldn't a great coach have confidence in what they hope for and assurance about what they do not know?
Even a casual sports observer would expect the coach of a team – even the coach most would expect to lose – to have "confidence in what they hope for and assurance about what they do not know." Wouldn't they? In fact, a coach who came out before the game and said "We don't really have a chance, but we will play the game" would be roasted in the press, and likely fired at the first opportunity.
The Coaching/Faith Connection
A great coach has confidence in what they hope for – for themselves, and their entire team as well as for individuals. After all, do you want a coach who doesn't have confidence that you can succeed? Is that who you want to get feedback and advice from? Is that who is going to inspire and persuade you? Is that someone you want to follow?
So whether you have thought about it or not, faith is a critical need for a great coach.
Of course, it is faith, because it is dealing with the future – and the future is, by definition, unknown. Does having great faith make us the eternal optimist? I believe faith in something positive contributes to being more positive and optimistic, but faith doesn't mean we sit back and "wait for good things to happen" either.
A great coach has faith in the ultimate success of his team and is willing to roll up his/her sleeves and take action to improve the odds of that success occurring. Remember that even with faith, coaching is an active process. That is why we coach – to facilitate progress towards a goal we believe can be achieved. (Tweet That)
If your faith is weak or non-existent, how long and how effectively will you coach? How persistent and persuasive will you be?
Now What?
Hopefully I have effectively made my point – that faith is a necessary for maximum coaching effectiveness.
My challenge to you is to think about these ideas. Do you agree with my assertion? Do you see the connection? And what about your own levels of faith? How has your faith helped or hurt you in the past? Is your level of faith where you want it to be?
If you are unhappy with your answers, spend time thinking about next steps – share this article with a friend or colleague and talk about it.
If you want me to share some next steps in a future article, comment below.
I've been thinking about this topic a lot lately as I am building the new version of our Remarkable Coaching Workshop which will now be called Coaching with Confidence. Coaching with Confidence will focus on tons of practical ideas to help us be more confident as a coach and help instill confidence in others as well. I'd guess you can see the connection to faith there.
You can learn more at the link below.  One note – we have dates scheduled for this new workshop, even thoughas of this writing it is referred to by the old name.  When the new name and description is released, the price goes up.  You can reserve a seat now for the San Diego session May 10-11 at the existing price.
If you don't like the description once it is released, we will refund your money – but I have faith that won't happen!