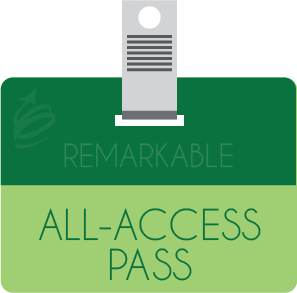 For over four years we have been producing live, virtual learning events we call Remarkable Learning. At first, they were teleseminars; more recently, they have become webinars. We have offered over 200 of these events featuring experts from our own team and hand-picked experts from around the world bringing relevant practical learning on the broad areas of communication, team success, leadership and more.
Almost all of these events were purchased when the topic fit an immediate need in the workplace; and we will continue to do this, averaging about three per month all year long. While this process of offering live sessions and recordings of them meets a need, we also know the world is changing.
And in a changing world you need to offer new options.
If you don't believe that, just ask Kodak about the photography business or the taxi companies about the transportation business.
When you want to target a specific skill to develop, you want an option that meets your needs or the needs of your organization; but why should you have to wait until we offer something that meets that need? And what if you miss the announcement of that session, then you need goes unmet?
Enter the Remarkable Learning All Access Pass. With our brand new All Access Pass, you'll get access to some of our best-selling previous sessions inside your All Access Learning Portal the day you invest. Then, each month we will add the recordings of every session we do for the entire year, giving you ongoing access to all of these sessions (approaching 40 in total over 12 months).
Learning you want, when you want it.
Wondering about the quality of the content?
All sessions are hand-selected by my team; and along with several timely sessions each year from our team, past experts have included top speakers, best-selling authors and thought leaders .
Wondering about the content itself?
Here is just a sampling of the sessions we have offered in the last few months:
Harassment, Bullying, Gossip, Confrontational & Disruptive Behavior
Handling Tough Conversations with Employees
How to Effectively Discipline Employees
Conflict Without Casualties
Changing Employee Behavior
Simplifying Your Performance Development
Making Managers Great
Communicating with Emotional Intelligence
Managing Workplace Stress
Dealing with Unacceptable Employee Behavior
Turning New Supervisors into Powerful Leaders
These aren't short snippets of e-learning, which gloss on the surface of a topic leaving you wanting more like having just one chip from the bag. These are full, 60 minute ( or longer) sessions diving deeply into the topics and skills with true experts providing ideas and implementation suggestions – all supported with a handout to help you cement your learning and build a personal action plan.
We have All Access Pass options for an individual – for the achievement focused individuals who want to turbo charge their progress and results, and for an enterprise – for organizations, departments or teams who want to use the lever of on-demand learning to fundamentally change their success trajectory.
You get the learning you want (and need), when you want (and need it). With the Remarkable Learning All Access Pass, you will have access to powerful learning at your fingertips to learn from and review all year long.
To learn more and get your pass, go here.