By W. Brad Johnson and Charles R. Ridley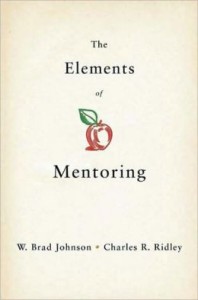 Take two psychology professors intensely interested in a topic and you wouldn't be surprised that they might collaborate on a book. Make that interest on the topic of mentoring and you might be interested in that book, but worried it would be too academic. Then you find out that these two professors take their inspiration and writing style from (I'd say as their mentors), Strunk and White, and their classic book, The Elements of Style. The result is this slim and powerful book.
The authors open the book talking about why they are keenly interested in mentoring – as professors and consultants, they have mentored many others and in fact are in a mentor-protégé relationship themselves. This drove their interest. In keeping with their writing mentors, they have written a powerful book with every word carefully chosen.
How else could they condense all of their research on mentoring into 65 key elements and take only 154 pages to do it?
The writing and conciseness make this book accessible, easy and enjoyable to read – and the content itself is outstanding. The 65 key elements they identify are placed into six categories:
About the mentor
What excellent mentors do (skills)
Traits of excellent mentors (style and personality)
About the relationship
Matters of beginning
Knowing thyself as a mentor
When things go wrong
Welcoming change and saying goodbye
As you can see from the topic areas, this book covers the ground that mentors must consider very well. In fact, I've not read a book that does a better job of identifying and describing what it takes to mentor others successfully.
Wherever you are on your journey as a mentor, whether inexperienced or having mentored people for years, this book will help you.
Do yourself a favor – buy a copy for yourself and another as a gift for someone who has been a valuable mentor to you.