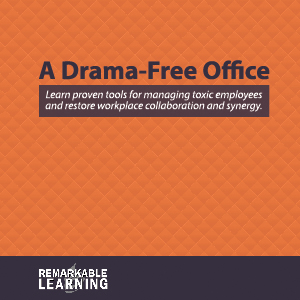 Perhaps that is a silly question. Most offices or workplaces seem to have at least a little drama…and some a whole lot more! Drama, in whatever form it takes in your workplace, causes confusion, reduces trust, hampers clear communication and saps productivity. If you work where there is any drama at all, wouldn't you like some tools to help you eliminate it?
If you are thinking about what you just read, your answer would be yes.
That is that we are offering a replay of our webinar titled, The Drama Free Office.
And before you say as a leader there isn't much you can do about the drama, I would ask if you don't know what to do, or aren't confident enough to have the conversations you need to have?
Either way, our facilitator best-seller author Kaley Klemp can help.
Kaley draws from years of experience working with more than 2,500 CEOs and their executive teams. You'll get a detailed roadmap to help you:
Skillfully initiate difficult conversations and defuse dramatic moments
Reclaim the time, energy, and resources wasted in drama-riddled meetings and interactions
Reduce your own dramatic tendencies and take control of your work life
Create and sustain a collaborative, authentic, and fun work environment
In other words, we will help you eliminate existing drama, and keep future drama from taking stage.
Drama is entertaining on a screen, but not in the office.  This webinar learning experience can help you keep drama where it belongs.
Join us at 2 pm on October 12 – or buy the recording in a variety of versions (or attend and buy the recording too). All the details and registration information can be found here.