By Marcia Reynolds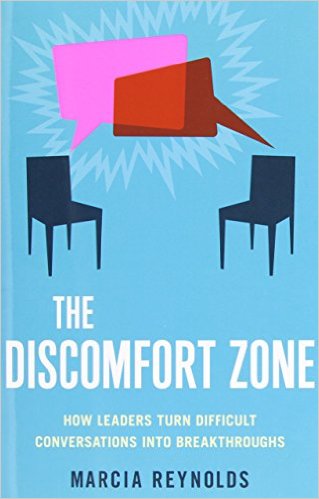 There are plenty of good books about crucial and fierce and difficult conversations – and I recommend you read them. All of them come at the conversation from the personal perspective – what can you do to get your point across in an effective way. As important as this is, there is another side to difficult conversations that isn't about you at all – and in many ways that is the point of this book by Marcia Reynolds.
This book helps you as a coach to focus on the other person and help them create a breakthrough – not by what you say, but by what, when and how you ask. As a big fan of coaching through questions and discovery, I found this book to be a valuable tool to reinforce what I know and to up my game even further.
Once Reynolds lays out her premise and defines the discomfort zone, she tackles trust as an underpinning to making this work, then she gets on to how to do this all well. In the final chapters, she talks about specific times you can use these skills, including helping people breakthrough barriers and determine what is next for them.
In short, this quick read needs to be on your reading list.
How would you like it if I offered you a chance to learn from and interact with the author of this book, and gave you a copy too?
That is exactly what we are doing, because we have convinced Marcia Reynolds to do a webinar for us on August 18, fittingly titled The Discomfort Zone: Turning Difficult Conversations into Positive Results. And every registration includes a FREE copy of her book. During this practical session you will learn:
How to mentally prepare for an uncomfortable conversation.
How to start the conversation with an engaging statement.
How to shift how someone thinks about a situation.
How to form and ask questions that inspire changes in perception and behavior.
All this directly from the author and expert!
And if you choose to join for the live event (a recording is also an option), you can ask Marcia your questions directly!
We are pleased to bring these ideas to you – you don't even have to leave your office.
Take advantage of this opportunity – you and all of the people you coach in the future will be glad you did!