By Rick Bommelje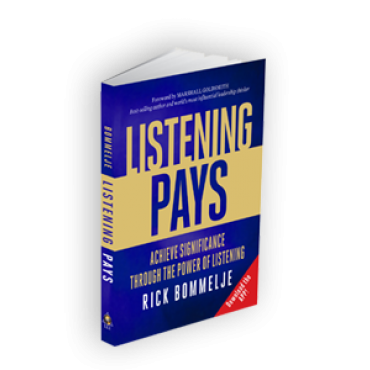 Listening is one of the most important skills we can develop in our lives.  Most would agree with that statement, yet most would agree they could be better listeners.
That wasn't the case for the lead character in this book.  Stu was a Sales Manager who, among other things, was clueless about his lack of listening skills, but through the arc of this story, he learns critical skills ad habits to help him become far more successful at work and at home.
Yes, this book is a business novel or fable.
I don't know how you feel about this genre; some people love them, others look down on them.  Here is what I know.  This book provides more practical, applicable tools and ideas for listening than most have ever encountered, and it does it in an entertaining way.
The story is as well written and intriguing as most any in the genre, but where it really shines is with the tools it provides Stu (and us the readers).  Many business fables have one simple model the book revolves around – this book has a series of simple (and simply effective) tools and models that are woven into the story.
If you would rather read a more academic tome, they exist.  But if you want to learn how to really listen, starting right now, read this book.
I had the good fortune to talk with the author who has made it part of his life's work to teach others to be more successful listeners.  With this book he has taken a big leap forward in that mission.
I hope you will read the book and apply the lessons – I am on that path and I believe this book, when applied, can make a big difference in our lives.
Along with the book, I encourage you to go the book's website to learn more, take a great diagnostic quiz and more.
I'm glad I read this book.  I hope those I live and work with will be at least as glad as I am; if so, that means I am applying the great lessons it contains.