By David Sax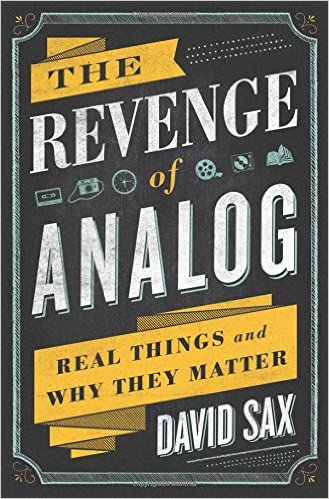 Sometimes you read a book and it clarifies your thinking. Sometimes you read a book and it surprises you in provocative ways. Sometimes you read a book and it changes the way you see the world around you.
And once in awhile, one book does all three of those things.
That's what The Revenge of Analog did for me.
The premise of the book is that in a world where it seems everything is digital, there are some places where the trend is reversing.
Examples – have you noticed there are people buying turntable and vinyl LPs again? (They are). Did you know that film, actual film that leads to printed pictures, is coming back too? (It is).
These are just two examples of the thesis presented by talented journalist and writer David Sax. He traveled the world to find and compile this story and present these trends in an interesting and helpful way.
Specifically, the book is in two major sections titled, The Revenge of Things (the two examples above are from that section) and The Revenge of Ideas. Both sections present examples that individually are interesting. Collectively the book provides the reader with a new lens to look at the world through, and perhaps provides ideas for products, services and more.
If you are a leader, like many people who read my work, you may think "this isn't a leadership book," and in part you would be correct – you won't get leadership concepts or practices here. But this is a book for leaders – to help you look at and see the world differently, and help you and your team navigate in the ever-changing world.
This book is interesting, fun and well written. I highly recommend it.