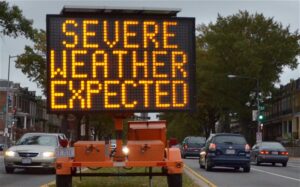 First of all, it is easy for me to write this as I sit in my office in Indianapolis with power and heat, and just a few gusts of wind outside.  While I do want to share some insights, whether we are dealing with the storm or not, first of all I hope everyone is safe, and that you aren't devastated by the outcome of the storm. . .
And whether we are talking about Sandy or any other storm, there are lessons we can take from these situations that apply to our work and our lives. Here are a few of those.
Priorities, re-established.  When catastrophic events are impending or occur, we are quickly able to see what is really most important to us personally.  Safety, family and security move to the front of our mind, and suddenly that big report isn't quite so important.  The same thing happens at the work.  Last week, in areas expecting to be hit this week, I am confident that many meetings took place to re-prioritize the most important work.  Why do we need a storm to have those conversations and have those reminders?
Productivity, renewed.  Here is what will happen when power is restored and people return to work.  After some initial re-connection and bonding time, more work will get done in two days than in the previous two weeks.  Priorities are clearer, focus is stronger, and more will get done.  This likely happened last week, and will happen again this week.  How can we boost our productivity without a major storm?
True teamwork, restored. I have clients in the electric utilities sector.  In times of storm, they experience teamwork at the highest levels.  By any measure, teams that are equipped and well prepared perform big when faced with big adversity.  Why?  People are crystal clear on their mission, they have a defined focus and their work has greater meaning.  While teams can't work on adrenaline forever, there are big lessons for team success in times of great challenge.  Notice them in yourself, and watch for them in others over the next few days.
Natural talents, revealed.  You will see it on the news, you will see it in neighborhoods, you will see it in the office.  When people are focused on a mission, their natural talents show up.   When we get out of our insecurities and into the task we are working on, we naturally bring our best selves.  As a leader in the next few days you may learn things about yourself and your team members.  Use those lessons (and support the use of those skills) long after the power is on and the flood waters are gone.
While I often close articles with specific action steps to take, today's step is more general but just as valuable.
Notice these lessons.  In times of peril and challenge lessons like these are revealed to us more clearly.  That clarity and with a new focus, a new picture, and a reminder, we are often able to use those natural talents, capture that teamwork and productivity and harness the power of those priorities to greater good after the storm is over.
The storm will cause challenges and devastation. Many will lose power and much more.  The goal of this article is to help us find something, even in the midst of loss – perhaps something that will create a positive benefit from the storm itself.  Those lessons are there, we must only look for them.

Sign-up for the free weekly e-newsletter and, as a special gift, you'll also receive a free copy of our inspiring e-book,
101 Ways to Unleash Your Potential
, filled with short tips, graphically depicted, to inspire you to action..