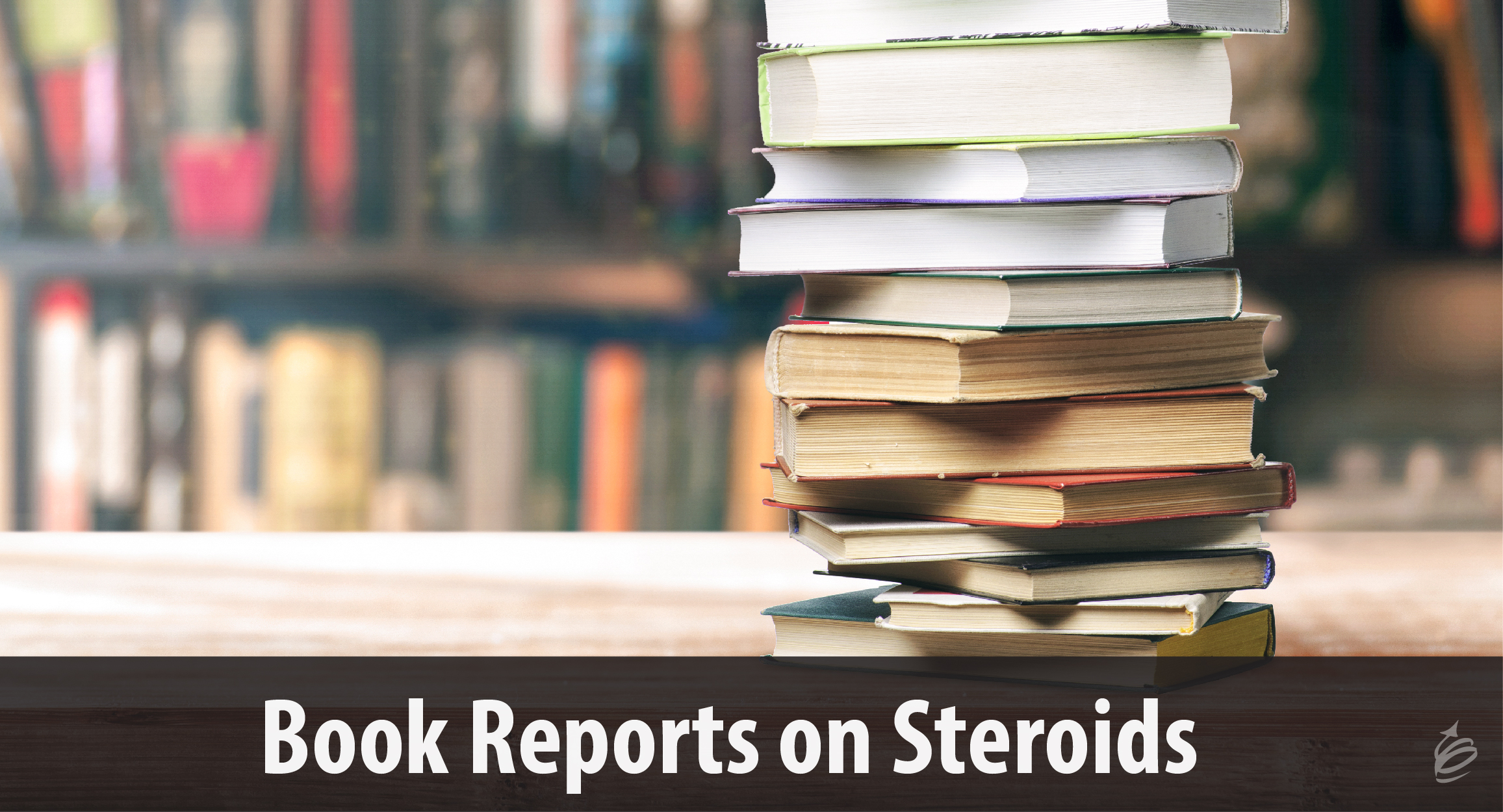 When you read the two words "book report", it might take you back to school, in front of your fellow students, with your knees knocking, scared stiff and trying to remember the title of the book and hoping you can survive until the teacher tells you you can sit down.
(Maybe those aren't two good words to title an article you want people to read?)
Take a deep breath – this article isn't about that kind of book report.
This article will walk you through a process I created for my team last month: what we did, why we did it, and what we learned from the process. I share it to give you a vehicle to encourage your team to learn, share that learning, and have fun doing it.

What I Assigned
I asked everyone to read a book (or use a book they had recently read), and to share some specific things from it with the rest of the team. Specifically, here is what I sent them:
Assignment…
Lead a five-minute discussion about your book and the lessons you received.
Use a prepared PowerPoint template to share those ideas. ~ 3 minutes

Key ideas
How you have/will apply
Implications or ideas for the entire team

~2 minute Q&A
Note – Here was our template – it isn't fancy, and it is branded to us – but feel free to swipe and adjust!
Goals…
Share learning across the team.
Look for ways to apply lessons broadly across the team in the coming year.
Model a learning organization.
Thoughts about the book and your preparation…
Please select a book with a business focus at some level.
The book selection is entirely yours.
You can read or listen if you prefer.
Read could mean every page, or selective reading for ideas, diving in and out to meet your needs. It doesn't necessarily mean you have to read every word of the book you select.
If you need to buy it, put it on your company card – or I will reimburse you.
This is a work project. It is OK to read some during work, as your work allows.
If you want help in selection, I am happy to help.

If you like, you can select anything from my office.
We will discuss and clarify expectations in the next team meeting.
Why We Did It
The big reasons we did it are listed in my instructions to the team. Perhaps the biggest is that as a team that focuses on helping others learn, I want to make sure we are doing it intentionally in as many ways as we can (this is just one more way). But more than that, I hoped it would be a great way to build the team, share some lessons and have some fun as a part of our planning meeting. Thankfully, all those things happened.
What I Learned
As a team, we learned a lot about the people and their books – both from what books they selected and from what lessons they took from them; as you might expect (and I certainly hoped), there was also great discussions about those lessons and how we could apply them more broadly across the team.
Beyond the lessons we all gained, I learned some things as a leader (and facilitator of the process), including:
You need to give people time to prepare. I gave people about 2 weeks. In retrospect, a bit longer would have been better and reduced some people's stress a bit.
Having a template to manage what and how people share is important. I wanted to focus people on three things, and only one was about the book itself. What makes this a "book report on steroids" is that most of the report is about what people will do, and how the team could use the lessons. This isn't meant to be a dry, dull book report, but a way to bring the book's ideas to life for the person and the team.
Notice that I mentioned we would discuss during the team meeting – this assignment requires some discussion for my expectations and our reasons to be clear.
My expectations could have been clearer. I really wanted people to pare their message down to the two-slide template – some shared much more – it was all good, but really encouraging people to focus might have made it more effective.
This was a good team building exercise. While it wasn't the main goal, it was a great additional benefit.
Anticipating Your Questions
How did people react?
Well, I'm the boss, so maybe they hated the idea and didn't tell me; but I believe that my concerns about people being resistant were largely unfounded.
How long did the reports last?
Almost all went longer than five minutes. I hoped for this, but set the time short to reduce anxiety about having to do it at all (I recognized the negative past school experience people might have). The conversations were insightful and many people took notes throughout (The final copy of everyone's slides were available if people wanted them too). When I do it again, I will set the five minute expectation, but plan for extra time in the meeting agenda.
What about non-readers?
As it relates to reading, I have a mixed team, much like you probably do. I have very avid readers, a bunch of folks at or above average and a few folks who don't read all that much. While I wanted to encourage people to read something new, I made it "OK" to use a book read some time back. In my instruction, you will also note that I mentioned that people didn't have to read every word of the book – or they could listen, rather than read. All of this was meant to reassure the folks who don't read as much.
What about book selection?
I wanted them to have ownership of book selection and trusted the process that whatever they brought was great. While I believe we can learn from any book we might read, I did direct people to a business (broadly defined) book. Why? I wanted some real meat in the lessons and conversations about how we can apply things as a team. How you would do this is up to you, but I would use the same criteria next time.
What other questions do you have?
Since I don't know what they are, ask them in the comments below, and I will answer them there. If there are several, I will write a follow-up post and link to it here.